Housing Next Needs Analysis
Submitted by

whitemice

on Wed, 07/22/2020 - 07:01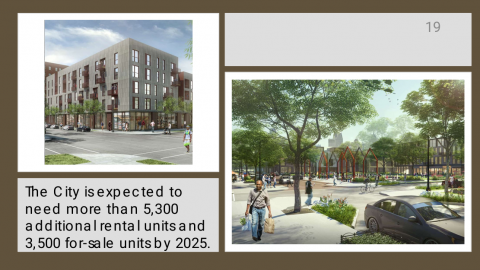 The Housing Next needs analysis was presented to the Committee of the Whole on 2020-07-21.
Key Take-Aways
There is an inadequate supply of housing; this drives up prices.
A need for at least an additional 5,340 rental units and 3,548 owned units by 2025.


Rental: 1,031 units @ 0-30% AMI, 895 units @ 30-50% AMI, 966 units @ 50-80% AMI, 1,469 units @ 80-120% AMI, 979 units @ 120%+ AMI
A total of 8,888 units.
Production of more "Market-Rate" is critical to success.

High-income households, 120%+ AMI, expected to increase by 30%, creating competition of housing.

These are households earning $86,000/year or higher.
"Step-Down" from higher income households is real for both for-sale and for-rent properties; "Step-Down" is when higher income households purchase or rent units which cost less than 30% of their income.

52% of Grand Rapids renters are "Cost-Burdened", 19% of Home Owners.

17,052 renters
7,914 owners

With current policies the number of low income households will be reduced ~15% by 2025, due to a combination of consolidation, crowding, and displacement.
75% of rental units are in small buildings, of less than 10 units.
There is a shortage of small units (studio & 1 bedroom) and large (3-4 bedroom) units.
87.3% of Owner-Occupied units are Single Family Detached Units, aka: Houses.
A healthy for for-sale market is ~3% of existing housing stock, Grand Rapids has less than 1/3 of that share on the market.
A healthy for-rent market has occupancy rates ~95%; the occupancy rate in Grand Rapids is 97.1%. There is effectively zero vacancy in for tax-credit ["affordable"] units.
Current "Market-Rate" rents are not high enough to support new construction [without subsidy/incentives].

Break even for new development is ~$1,500/mo for a one bedroom apartment primarily due to construction costs.

If 5% of all singe-family homes - that's 1 in 20, or ~1 per block - in Grand Rapids were to add a secondary/accessory dwelling unit that would create 3,400 new rental units. 3,400 units is ~64% of expected demand.
LIHTC (Low Income Housing Tax Credits) remains one of the best tools to producing Affordable housing. The city needs to push for getting ~400 LIHTC units into the pipeline every year.

Tax-Credit units produced has dramatically fallen.
Very daunting numbers.
Video, PDF, Presentation, PDF, Study Overview, PDF, Study (343 pages)
Related