How To Contact The City Commission
Submitted by

whitemice

on Sun, 07/30/2023 - 07:21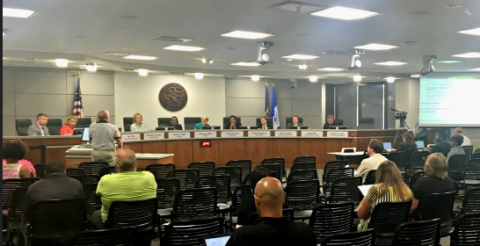 Contacting the City Commission is as easy as an e-mail or phone call; yet there are some details worth knowing.
Your Ward
When contacting city government always include your ward and if possible your neighborhood. Grand Rapids has three wards named, not very creatively: 1, 2, & 3. Each ward has two commissioners on the City Commission and the mayor represents the city as a whole (all wards). The City Manager, who is not elected but hired by the City Commission, also serves all wards. Functionally, the City Manger should be addressed by citizens as if they were an elected official.
Reading Into Record
If you would like your feedback or concerns read-into-record of the City Commission then you should email To: the City Clerk (see address below) and BCC: your City Commissioners (see Open Meetings Act below). Including the City Clerk will put the message in the "Petitions and Communications" section of a City Commission meeting agenda & minutes.
That's the part of the agenda & minutes which looks like this:

If you do not include the City Clerk your communication will not be read into record.
Phone calls, AFAIK, cannot be read into record.
Communication Style
Be as succinct and specific as possible.
Being succinct - brief - respects people's time. Officially, a city commission seat in Grand Rapids is a part time job. Yeah, right. This was established by the anti-labor city charter back in 1916 with the intention of creating an enfeebled government. A city commissioner is paid $28,000/yr, or $14/hr. Most of them have day jobs.
Every city commissioner sits on multiple commissions [Economic Development, Brownfield, MobileGR, Public Safety, Appointments, ...]. There are 48 boards and commissions, meaning there are as many as 48 agendas flying about at any given time. That something is trending on social media or being reported on the news does not necessarily mean it is getting top shelf on the various agendas, so it pays to be as clear as possible what idea, proposal, ordinance, etc... is the focus of your communication.
Tip: You can drill down to the agendas and minutes of most of the boards 👉here👈
Attempt to be positive; what do you support? I know, given the givens, this can be challenging. Still, knowing what people want/support will be more motivational for the receiver of communication than a negative message.
The Open Meetings Act
Michigan has state legislation called the "Open Meetings Act" (OMA) which establishes convoluted rules about what is a "meeting" in respect to government officials. If you blast more than two government officials who risk automatically creating a meeting and thus are less likely to get responses. Use the BCC (blind carbon copy) feature of e-mail if you want to send a message to more than two people. You message will probably be read, regardless, but not respecting OMA means it is less likely you will get a reply, and if there is a reply it may be less candid than otherwise.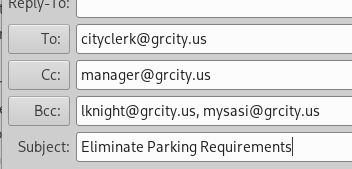 Some officials are more likely to respond to e-mails or phone calls than others; they are people after all.
Contact Information